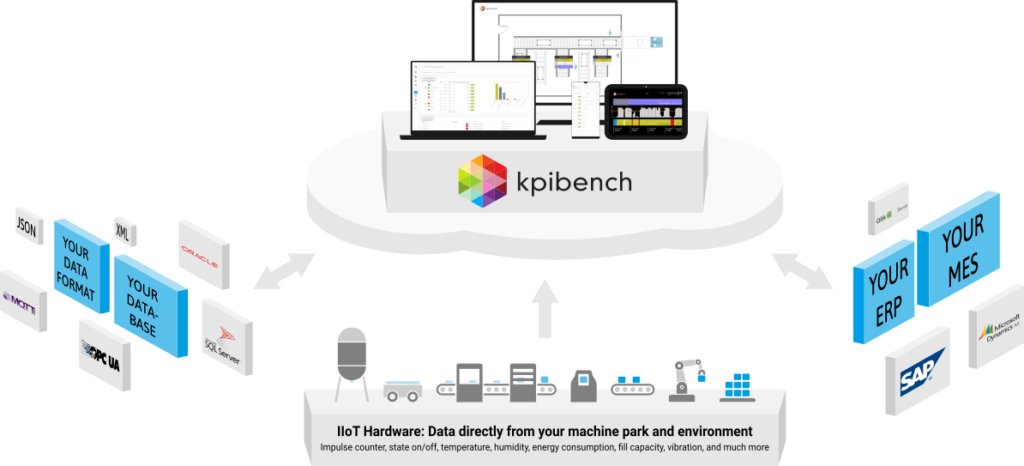 kpibench is a web-based cloud solution for increasing productivity in the manufacturing industry.
The product standard contains functionalities for the following main areas of application:
Flexible options for expansion
Designed for individual functionality
The cloud platform is designed in such a way that it can be expanded to include individual software modules. The most common individual areas of development are:
integration of existing data sources (e.g. databases, machine interfaces, production planning systems, MES, ERP)
machine and operating data acquisition by means of data logger / sensors and manual data recording
automated data transfer to third-party systems (e.g. MES, ERP, controlling, BI tools)
individual in-app instant notifications for the operating personnel
extension of configuration and administration functions (shifts, KPI models, catalogs, users)
Ideal as a basis for complex IT requirements in the industrial sector
With seamless integration of your individual functionalities into the user interface:
presentation of information from the ERP
acquisition of process parameters and feedback to the ERP
automated escalation of issues in the existing maintenance solution
tool management with linked performance data from machine data acquisition
and much more
High availability and security
Continuous monitoring, maintenance and development
We strictly follow best practices in the system architecture of distributed online systems. Our systems are continuously monitored and maintained.
All communication with our IT infrastructure is secured through SSL (Secure Socket Layer) communication channels.
European IT infrastructure
Our cloud infrastructure is operated in selected partner data centers in Europe:
The web interface is operated on a high-availability cluster in German data centers at Hetzner.
Data processing and storage is performed in Microsoft Azure in data centers in Europe. For more information about Microsoft Azure security policies, visit the Microsoft Azure Trust Center.
You own your data
Even kpibench may only use your data to provide the online service. You yourself control which users have access to your data.
Communication with your IT department
Direct communication with your IT department is possible and expressly desired: to clarify open IT questions, fill out your IT questionnaire, or go through your cloud service compliance check.
Our service team is looking forward to work with you
Request your personal online demo now to clarify any questions about the kpibench cloud platform.